Ian Westbrook reported 28th Feb 1018 for BBC news: Satisfaction with GP services at record low.. Correspondence in the Times 1st and 3rd March follows. You cannot expect an under manned and underfunded service to maintain it's all star rating, especially in our Media led society. But since there is less continuity, less involvement in terminal care, and no emergencies, the shops of the job has changed, and distilling has been exchanged for quality of life.
…Only 57% of people were happy with the service – the lowest level since 2011 – while dissatisfaction has risen to 29% – the highest level in a decade.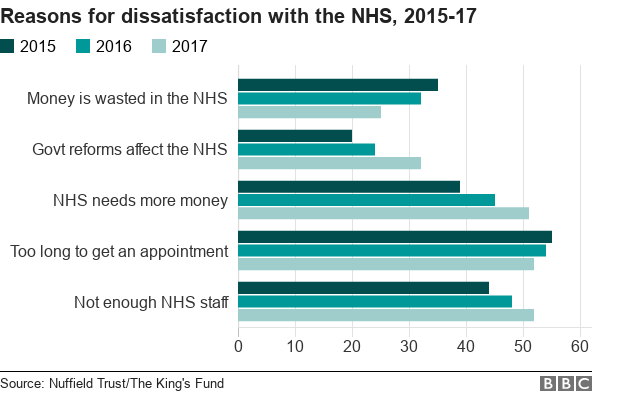 The survey was conducted by the National Centre for Social Research (NatCen) and analysed by the Nuffield Trust and the King's Fund think tanks.
A nationally representative sample of 3,004 people in England, Scotland and Wales were asked about their overall satisfaction with the NHS and 1,002 of them were also quizzed about their satisfaction with individual NHS services.
GP PATIENTS SURVEY
Sir, Further to your report "Patients give GPs lowest satisfaction rating for 35 years" (Feb 28), public perception of GPs changed irreversibly in 2003 when Tony Blair's government allowed them to opt out of responsibility for 24-hour care. The tragic case of Ellie-May Clark (report, Feb 27) highlights (among other failings) how the GPs caring for her did not "know" her. That this five-year-old girl had a history of severe asthma should have been indelibly imprinted on her own GP's memory rather than in a hospital letter in the depths of the computer record.
Attending one's own patients in the middle of the night or at the weekend added an inestimable level of respect in the relationship between GP and patient. This has been further eroded with the trend towards part-time working and portfolio careers, and will sadly never be regained.
Dr Andrew Cairns
Retired GP, Liss, Hants
GP WORKLOAD
Sir, Dr Andrew Cairns (letter, Mar 1) falls into the (rose-tinted) common trap of a retired GP. Over the past 20 years GP workload has increased considerably. When I started as a GP in 1991, our practice did all the "on call" for our patients. There was time to rest between morning and afternoon surgery to gather strength for an evening and night on call. Now there is no spare time in the day, and in my view it would be very difficult to find a GP who thought that doing an evening and night on call after a non-stop 11-hour day would be a safe option, even if there were benefits to the doctor-patient relationship.
Dr Steve Brown
Beaconsfield, Bucks