Doctors should be able to say how they feel. In my own practice there was some comment when I put a poster showing my voting choice on my office door. There was no implication that the whole practice should support my choice, but several of the partners were uncomfortable. … Doctors are under great strains: overworked, gagged, humiliated (The suggestion that many GPs are corrupt) and there is more and more evidence of early burnout.
Purdah rules shouldn't stop NHS doctors speaking out  (BMJ 2019;367:l6679  )
Charles Lamb (Psudonym)  for the BMJ talks about the "4 major errors in medicine" and asks: Please do not feed the lawyers
Tim Locke, Dr Rob Hicks | October 1, 2019 for Medscape opine: Sexual Harassment of Uk Doctors: report 2019
Thank goodness some do speak out, and even on video.
Patients are waiting twice as long for an ambulance if their GP asks for it at their surgery. Perverse outcomes are everywhere, and arise because of perverse incentives. ( Alex Matthews-King in the Independent 4th January 2019)
Emergency Beds are now used all the year round. Trolley waits are routine. But why is it that a child having his treatment on a perfectly safe mattress, gains more sympathy and publicity than multiple grannies on trolleys? At least treatment was being given.. In some emergency situations we could have two children to a bed. Better than refusing them..
We have rationing by delaying decisions – gaming, arbitrary rules, and bureaucracy  (Obfuscation of the truth) – as described by David Oliver ( BMJ 2019;367:l6620 ) 
No wonder the doctor patient relationship is being threatened. Without continuity of care and an ongoing trust relationship, we are going to get more burned out doctors. If it helps here is a good description from Jonathan Glass in "How not to be the heartsink doctor" ( BMJ 30th November 2019)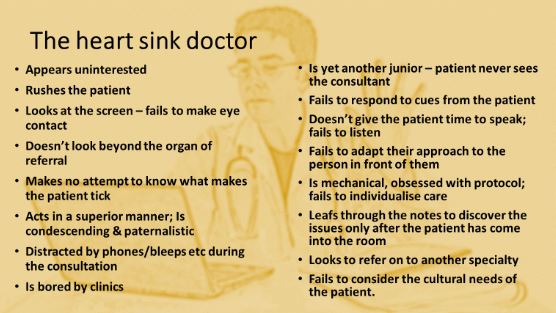 The social contract has been broken. Social care crisis wastes £½m of NHS money a day and is not free but means tested. (The Times 4th December) This was followed by Social care crisis wastes nearly £30000 of NHS money an hour by Homecare.co.uk. This is why there is so much anger..
The reality is that for most of us the state safety net is absent. If social care is means tested, then why not health care?
NHSreality is a "heretic". The NHS has become the greatest cult of our time. As a "holy relic" it is granted immunity from meaningful change.. If social care is means tested, why not medical care?