A recent report in the Times (Not on line) opines "Gatekeeping by GPs called into question. This is not new, as you can see from the debate following Matthew Paris' article in 2015. The problem is not referrals, but the 90% who do not need a referral. Allowing others, less trained in dealing with uncertainty, will lead to more referrals, longer waits and a constipated system. The useless 111 service where there has seen no reduction in GP workload is another attempt to wriggle off the hook of under capacity and poor manpower planning. In his Imperial College funded report, Geva Greenfield and others report: "Rethinking primary care user fees: is charging a fee for appointments a solution to underfunding?".
One solution is to make patients pay for their GPs and let them have appointments free with the nurses and paramedics. A two tier system by design. Lets see the comparisons in referral rates, expense and survival!! The result would be anarchy.. (sic) Geva Greenfield says "There is a trade-off that needs to be found between GPs serving as hgatekeepers to secondary care, and at the same time allowing patients to see a consultant when they wish". We are trying to treat patients, and the governement are treating populations. Money matters, and the services are all rationed. (covertly)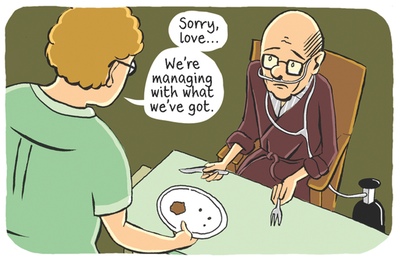 This is the sort of thinking "outside the box" of current opinion that we have to get to talking about openly.
On November 26th 2018 Chris Smyth reported in the Times: Bypassing GPs could help to diagnose cancer sooner
In Pulse 2015: GPs should give up their Gatekeeping Roles
Matthew Paris on June 16th 2012 reported in the Times: GPs – little more than glorified receptionists
In this age of medical specialisation, if family doctors didn't exist we wouldn't feel the need to invent them
Next Thursday, family doctors plan to strike. Striking doesn't suit the profession's humanitarian image. Interviewed, doctors' leaders struggle to insist (on the one hand) that nobody needing medical attention will be denied it, without implying (on the other) that few will suffer if doctors aren't there.
How much, though, would we suffer? If family doctors had not existed, would we today have found it necessary to invent them?
We pay general practitioners more than we pay airline pilots, but they are becoming glorified gatekeepers: a portal to the more specialist medical care that our health service offers in growing measure. As GPs have receptionists, so the NHS itself uses GPs as its receptionists. Are we investing too much in the citizen's first port of call, to the detriment of investment in the specialist attention to which, to an increasing degree, surgeries are likely to end up referring the patient?……..
……..Nurse-led primary care, too, is plainly on its way and expanding fast, with (the research is clear) excellent results. Walk-in and appointment clinics are becoming more common, especially evening clinics. Sexually transmitted disease, family planning, coughs and colds, eye, ear nose and throat … in all these fields specialist practices staffed by nurses and pooled doctors, rather than personal GPs, are where we're going.
The only question is how fast. Let's hope next Thursday's strike prompts us to speed this thinking up. Decades ago, at the bookshop Foyles, you had to get a little chitty from a person in a booth before you could get your purchase. One day we'll remember the GP surgery in the same way, with the same amusement that the archaic practice lingered so long.
Sir, Matthew Parris (Opinion, June 16) is not quite correct in describing GPs as "becoming glorified gatekeepers". We have already had that role (among others) for decades.
It is true that part of this role is to refer to secondary care, but he seems to miss the corollary of this; that we also judge when not to refer, thus saving patients, and the country, the burden of over-investigation and over-treating. The internet has expanded everyone's access to specialist knowledge, but has not, perhaps, increased our ability to apply that knowledge appropriately. We know more, but understand less.
Mr Parris also fails to acknowledge that GPs have a vital role in the other direction of travel; from specialist care to the community. In this past week I have picked up the care of patients after their discharge from heart by-pass surgery, psychiatric in-patient treatment, dermatology, gynaecology, child autism and palliative care clinics.
In addition, we need to manage patients whose symptoms and conditions cover several specialties, as well as those who have exhausted all secondary care investigation without any diagnosis being reached.
"A decent grasp of the whole thing" is exactly what GPs need.
Dr Jonathan Knight
GP, Ipswich
Sir, Matthew Parris assumes that his interaction with his GP is typical of the work that GPs do. I have been working in general practice since 1987 and my experience is very different. We spend most of our time managing long-term illness such as high blood pressure, diabetes, kidney disease and asthma. When I was in training in the 1980s these conditions were managed in hospital but are now managed mainly in primary care. Of course I do not profess to be an expert in everything so I may refer to colleagues for opinions about aspects of a patient's care, but they are then usually discharged to my care.
Allowing less-qualified health professionals to manage patients has never been shown to be more cost effective than using GPs.
It is this system of every patient having a GP, enshrined in Bevan's original vision for the NHS, that other health systems around the world have strived to emulate. We should not discard it lightly.
Steve Charkin
London NW3
Sir, Matthew Parris says that he believes he could refer himself appropriately to a specialist, but he is not our typical patient. GPs' time is predominantly taken up with the very young and the elderly, particularly those with chronic, complex and multifaceted medical conditions. For these folk, it is their GP who sees the "big picture", the context and impact on the individual and their family, while each specialist focuses in on his own area of expertise. Approximately 90 per cent of healthcare needs are met in the community, by GPs and their practice nurses, with only 10 per cent of care being hospital-based, at far greater expense. It is true that a GP's role includes "gate keeping" access to expensive specialist opinion, but I would suggest this is essential.
As Mr Parris concedes, most GP consultations do not lead to a referral to a specialist. His vision of a future without GPs to manage the majority of our health concerns would be financially unsustainable and bewildering to many. Would a woman with lower abdominal pain and back ache refer herself to a gynaecologist, urologist, gastroenterologist, oncologist or orthopaedic surgeon? Does she need a specialist at all if it is just a urine infection? How does she know?
While a single day of industrial action will cause no more inconvenience than the extra bank holiday for the Diamond Jubilee, Mr Parris belittles our role at his peril.
Dr Isabel Cook
Reading
Sir, Before getting rid of GPs Matthew Parris might be wise to wait until he is a bit older when he may have to see more than one specialist at the same time. He will find that the treatment for one condition often aggravates another and he will then be grateful for a generalist's opinion. He will also find it more efficient to keep seeing the same GP so that he does not have to keep repeating his past history.
Dr Richard Stott
Epsom, Surrey
Sir, As a GP I know Matthew Parris is right. A lot of what GPs do is pointless or could be done by others. So there is a simple solution: stop giving us work.
John Booth
Middlesbrough
Sir, There is overwhelming evidence that GPs deliver highly effective, cost-effective care to our patients. Moreover, we do so with the trust of our patients, and with care and kindness.
I invite Mr Parris to sit through a surgery with me at any time, where he will see first hand how GPs care for the elderly, the frail, the disadvantaged and the ill. I'm sure that afterwards his perceptions of general practice will be different.
Professor Clare Gerada
Chair of Council, Royal College of General Practitio