Pembrokeshire, Carmarthenshire and Cardiganshire are broke. According to the latest published overspend for Hywel Dda we have used £400 per head, extra, over the last three audited years. We are nearly at the end of another unaudited year, and can expect the overspend to top £70m this year alone. If we total the last 3 years it comes to £150m, and divide by 372,320 population of Hywel Dda we get to a figure of £402 each. If we add this year, another £200 is minimum… In 3 years time £1000 per head is predictable. We should stop making comparisons with the USA, but make comparisons with Canada, Germany, France or Holland. Even Ireland has a system which spends little to give very reasonable results… and is financially sensible. There is no perfect system, but there are examples of excellence in many. Spending less (with consent) as a % of the total in our last year of life is also important. The decisions taken in Scotland will be a sign of whether "reality" has sunk in to their politicians. Sustainable solutions are beyond our current leaderless houses..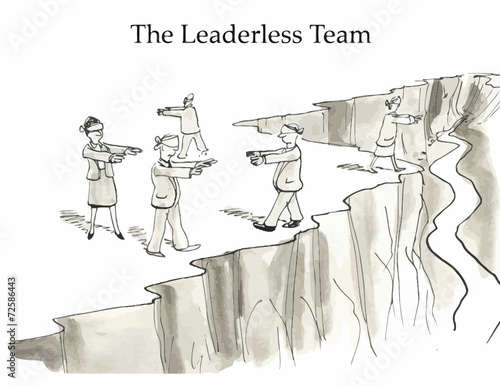 BBC News reports 8th Feb 2018: Hywel Dda health board facing bigger deficit
The health board in Wales with the highest level of overspending has seen its financial situation worsen.
The projected deficit this financial year at Hywel Dda, which covers west Wales, has increased to nearly £70m.
The health board blamed increased pressure on services in the autumn for the overspend, which follows deficits of £49m in 2016-17 and £31m in 2015-16……
on 6th February the BBCs "Reality Check Team" (Nick Triggle – did he pinch reality from NHSrealaity?) published: Reality Check: Does UK spend half as much on health as US?
…If you look at all healthcare spending, including treatment funded privately by individuals, the US spent 17.2% of its GDP on healthcare in 2016, compared with 9.7% in the UK.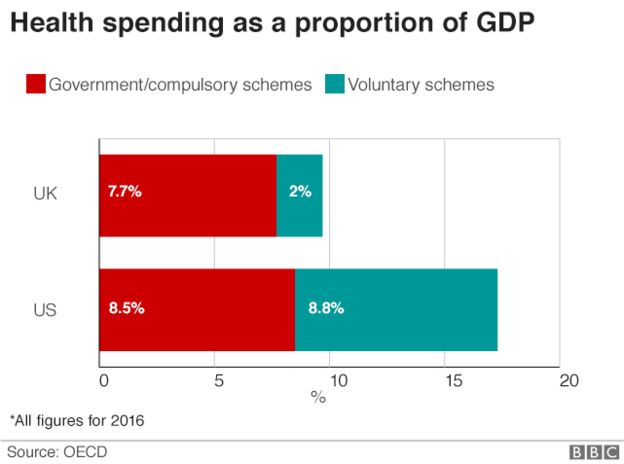 In pounds per head, that's £2,892 on healthcare for every person in the UK and £7,617 per person in the US.
So as a proportion of the value of the goods and services produced by all sectors of the economy the UK spends a bit more than half what the US spends, and in spending per head it's a bit less than half.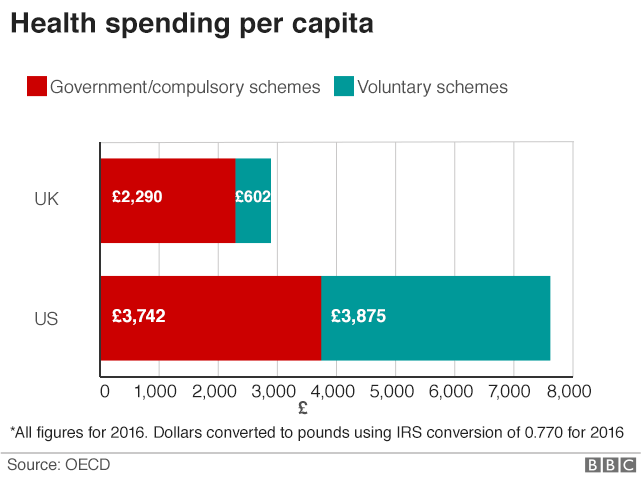 The difficulty is, when it comes to comparing healthcare in different countries, you're never exactly comparing like for like.
Almost all health systems are a mixture of public and private – it's the ratio that varies.
In the UK, the public health system can be accessed by all permanent residents, is mostly free at the point of use and is almost entirely paid for through taxation.
Americans are far more likely to rely on private insurance to fund their healthcare since accessing public healthcare is dependent on your income.
Many European countries, meanwhile, have a social insurance system where insurance contributions are mandatory. This doesn't fall under general taxation but is not dissimilar from paying National Insurance in the UK and means everyone can access healthcare….
Safety, affordability and efficiency
In the summer, US think tank the Commonwealth Fund ranked the NHS the number one health system in a comparison of 11 countries for safety, affordability and efficiency. It did less well when it came to cancer survival
The US was ranked last out of the 11 countries.
The American health system came off badly in comparison when it came to infant mortality, life expectancy, and preventable deaths, but did relatively better on cancer, heart attack and stroke survival.
Meanwhile, the UK's cancer survival rates have historically been below the European average, although they are improving for certain cancers.
The UK has fewer doctors, nurses and hospital beds than the OECD average.
Other countries have sensibly funded healthcare. (Scandinavia and NZ), & "the schemes used by most countries on the Continent are preferable to the NHS model.
If the NHS really is the envy of the world, why don't countries copy it?
Performance relative to other countries. Commonwealth fund "mirror".
Self Sufficiency is a dream Mr Hunt. Rationing of Med Students means it will take over 15 years – starting now  – April 2017
Oh dear. More money from Taxation will make no difference.. Digging the hole deeper?
In Search of the Perfect Health System – a new book reviewed
Not many first world countries have gone backwards in health provision, population health and life expectancy. The UK may be the first…
Life would be better if we faced up to death…. important conversations are put off until too late
NHS in Scotland must face up to "difficult decisions" to remain sustainable BMJ 2018;360:k567
Time is rapidly running out for Scotland to develop and implement solutions that will create a sustainable health service, a high level report warns.
The report,1 from the Royal College of Physicians of Edinburgh and the Good Governance Institute, makes key recommendations for securing the NHS's future in Scotland, including difficult decisions about what the NHS can afford in the future….