Health Boards in Wales are made up of professionally experienced people, some from the locality, but others from away. Their brief is to make utilitarian decisions (greatest good for the greatest number) within their area. The area is chosen and defined by the politicians. Hywel Dda is an anathema to Pembrokeshire people because they feel socially and culturally different to the people in Aberystwyth and Carmarthen. This is an accident of history, where Pembrokeshire remains the "Little England beyond Wales". So any decision which takes away from Pembrokeshire will meet great opposition. The demographics, where more people live in the West, where there is giant important industry in Milford Haven with disaster potential, and where there are more holidaymakers for 4 months in the summer, mean that there has to be a hospital in Pembrokeshire. The lack of a proper dual carriageway road, or failing that a full time air ambulance, compounds the risk for citizens. Life expectancy in Wales is already worse than the rest of the UK, and is going to get even worse.  Some time ago the then board recommended a "New Build" near Whitland, but in our single pressure group (SWAT) and press led society this was rejected. Today the people of Pembrokeshire would welcome a new build on the Carmarthen shire border with open arms, because the proposed option is so much worse. Who wants to be a board member? I was once.. Withybush is already attracting more GP trainees, and a review of the situation might find the obvious solution…
BBC News 22nd Jan 2018 reports: Hywel Dda health board looks at hospital closure options
A radical shake-up of health services in mid and west Wales includes options to close hospitals.
A leaked document shows hospital closures in seven out of nine options.
Hywel Dda health board will be presenting its preferred options in the spring but said it needed a modern healthcare system, while "keeping hospitals for those who really need hospital care".
Last week a review urged a "revolution" in health delivery in Wales.
The independent panel said without "significantly accelerated" change, services which are already not fit for the future, will decline further.
All health boards are under pressure from Health Secretary Vaughan Gething to move forward with plans for reform the NHS.
Hywel Dda said it faces spending demands of £200m over the next five years on top of its existing budget – currently £800m – if it carries on as it is.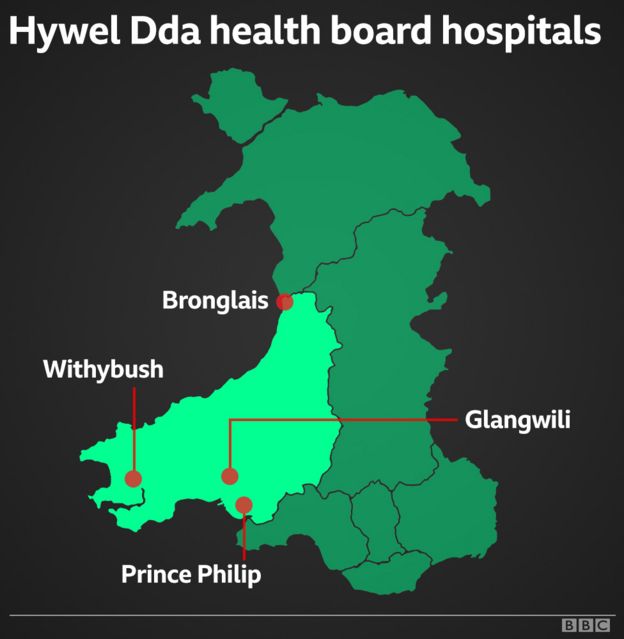 The health board – which is responsible for four general hospitals in Carmarthenshire, Ceredigion and Pembrokeshire – has already had an early "listening" exercise with the public and is now designing different potential models for how future services will look.
A document with nine of the options has been leaked to the media – but health bosses say they will be narrowed down and assessed before being presented to the public.
All options currently being considered include a network of community hubs with beds and none of the options involve closing Bronglais in Aberystwyth.
Seven of the options in the leaked document include closing one or more hospitals in Carmarthenshire or Pembrokeshire
Five of the options would involve the closure of Withybush hospital in Haverfordwest
One option suggests a new, major urgent and planned care hospital in an unspecified location to replace Withybush, Prince Philip in Llanelli and Glangwili in Carmarthen, which would all close
Two options include keeping all hospitals open but with urgent care being centralised in either Glangwili or Withybush
The health board has issued a statement saying it is discussing, "rigorously testing" and narrowing down the options with doctors, nurses and wider staff groups and will be "open and honest" about its preferred option.

It said all propose "significant change" and a focus on transferring more hospital services into the community where appropriate.

"A fewer number of preferred options will be released publically in the spring, when the health board is confident they are viable, safe and an improvement on what is currently provided," it said.

Medical director Dr Philip Kloer said: "This is a once in a lifetime opportunity for our health service and community to work together to design an NHS which is fit for our generation and beyond.

"It has been acknowledged for some time across the UK that healthcare services are challenged like never before and we need significant change."

'Scattered communities'

He said they would be looking to the latest technology in "fit for purpose facilities".

The health board serves 384,000 people.

"A number of our services are fragile and dependent on significant numbers of temporary staff, which can lead to poorer quality care," said Dr Kloer.

"For us specifically in Hywel Dda, the geography we cover is large, with many scattered communities that are getting older, needing more holistic health and social care treatment and support."

Dr Kloer said they appreciated the attachment people had to their local hospitals but said it was "about more than the buildings".

He added: "This is about investing in our communities, attracting doctors, nurses and therapists by operating a modern healthcare system and keeping hospitals for those who really need hospital care."
West Wales needs a new Hospital – not improvements to Glangwili Hospital in Carmarthen. Failing to act in a utilitarian way may well lead to unrest..
West Wales Health has to have a future – somewhere in the "middle" ground… Back to 2006 and reversing the wrong decision taken then not to build a new Hospital.
Ominous news for the peripheral DGH. MPs grant powers to close local hospitals..
Closing hospitals can help us save the NHS
Making rural hospitals sustainable – It is both quality hospital doctors and GPs we are short of… Please don't be tempted to reduce standards..
Local politics and health: Hundreds from West Wales (Pembrokeshire) to protest at the Senedd against 'downgrading' of Withybush Hospital
Amazing how England has been able to kid themselves there is an NHS – until now. Manchester's health devolution: taking the national out of the NHS?
Reflections on the BMA conference in Bournemouth. A complete lack of trust..