Poor results are expressed in increased deaths. The Mail 19th December calls it shaming.
NHSreality has tried to get an answer from our local Trust on the relative rates of Neonatal, Infant and Maternal Mortality through a FOI (Freedom of Information) request. The result is below, but readers can read that it fails to address my questions. I asked for the relative perinatal, infant and maternal mortality rates for Hywel Dda compared to Wales and UK averages.
FOI 255 17 – Final Response Mortaility rates
The failure to answer the question is justified by small and meaningless numbers, BUT if these are consistent and have not improved since 20 years ago this is significant.
Ben Spencer for the MailonLine reports 19th December 2018: Failure on sepsis sees UK plunge in world rankings for child mortality: Britain is 19th in league of 28 EU nations after falling from ninth in 1990
Stillbith attitudes also have to change:
FE News 7th December reports: EAC Chair urges Justine Greening to use UN Sustainable Development Goals in National Curriculum
Sarah Kate Templeton on December 3rd in the Times reports: Father's agony drives bid to cut stillbirths – Health secretary Jeremy Hunt has revealed how meeting a man who had lost his wife and baby son inspired care reforms
A meeting with a father who lost his wife and newborn baby inspired Jeremy Hunt to tackle Britain's shamefully high rate of stillborn babies.
The health secretary said he would never forget the encounter with Carl Hendrickson, whose wife, Nittaya, and newborn son, Chester, died in 2008 during the scandal at University Hospitals of Morecambe Bay NHS Foundation Trust.
Hendrickson insisted his surviving son, Conrad, who was 11 at the time, attend the meeting so he would "know for the rest of his life that his dad had done that", Hunt said.
After this newspaper's Safer Births campaign, the health secretary, who praised our highlighting of the issue, published plans last week to save more than 4,000 lives by halving rates of stillbirths, neonatal and maternal deaths and brain injuries.
Every day, eight babies are stillborn in England, the highest rate in western Europe……
Sarah Boseley in the Guardian April 4th reports: Stillbirth rate in UK one of Europe's highest, Lancet finds – Report says many of 4,000 babies stillborn each year could be saved with increase in awareness and research
Around 4,000 babies die unexpectedly in the last months of pregnancy or during labour every year in the UK – one of the highest rates of stillbirth in Europe, according to a major new series of reports by the Lancet……
Infant mortality rates by country: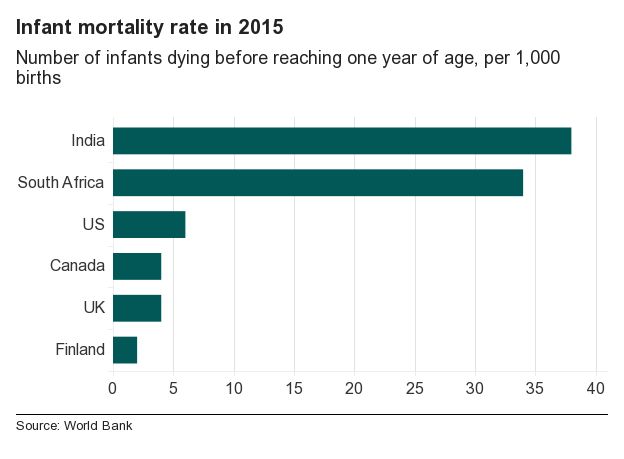 and by Region in the England (But not able to compare with Wales, Scotland and N Ireland):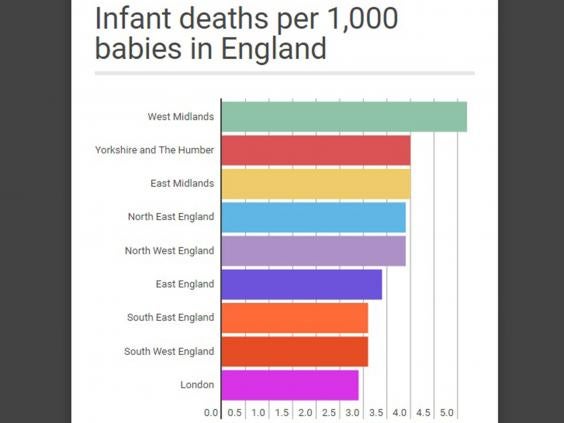 Causes of Infant Mortality in the UK 2014:
Causes of Maternal Mortality UK: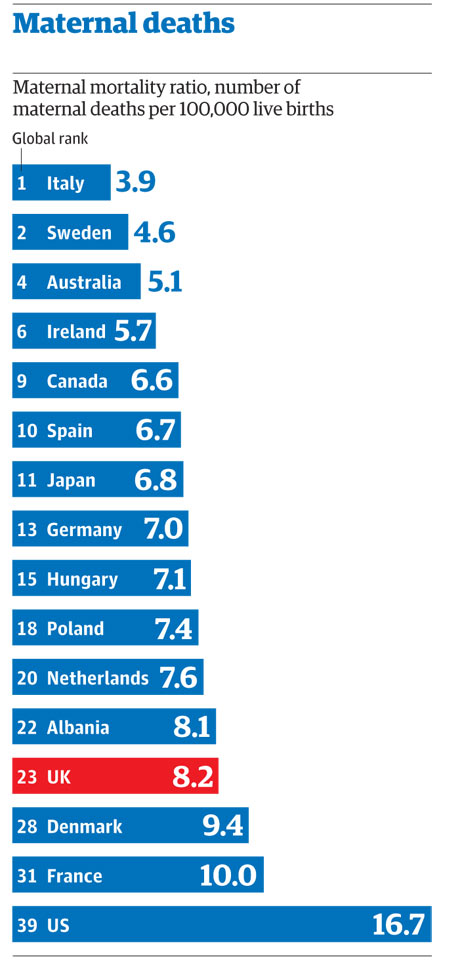 The National Centre for Disease control and Prevention 2009 shames the USA: 
Behind International Rankings of Infant Mortality: How the United States Compares with Europe