Waiting lists are going to get worse. Until we agree that rationing is inevitable, and that it is more moral for it to be overt than covert, we will never address the real issues.
Once we agree to ration overtly, then we can discuss the "how"…
Chris Smyth in The Times 11th August reports: Four million wait for surgery as NHS warns of winter crisis
More than four million people are on an NHS waiting list for surgery for the first time in a decade, and doctors warn that there is no end in sight to lengthening treatment delays.
One in 13 people in England are on a waiting list, with 373,000 on one for more than four months, up a fifth since last summer, official figures show. Hospitals said safe care was at risk this winter because they were already overstretched in the summer months.
Simon Stevens, head of NHS England, said in March that a target to give 92 per cent of patients needing a routine operation treatment within 18 weeks would be temporarily abandoned to fund other priorities. The target has not been met for more than a year and figures for June showed 3,831,207 on waiting lists, up more than 200,000 from the same month in 2016. Five hospital trusts, including the country's biggest, did not report back and NHS England estimates that the true figure is "just over 4 million patients".
Derek Alderson, president of the Royal College of Surgeons, said: "This is the real-life impact of an NHS under severe pressure. As our population increases and demand for the NHS grows, the waiting list will likely only get worse unless more action is taken."
June's waiting list is the highest known figure since August 2007 when the data was first collected and showed a waiting list of 4.2 million.
Richard  Murray of the King's Fund think tank said: "These statistics show once again that it is unrealistic to expect the NHS to continue to be able to offer the same standards of care within the current budget."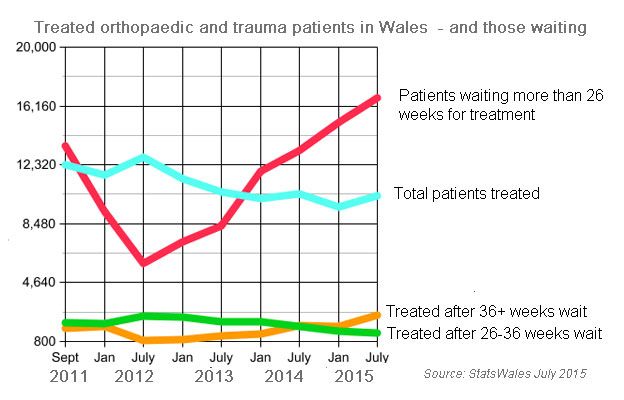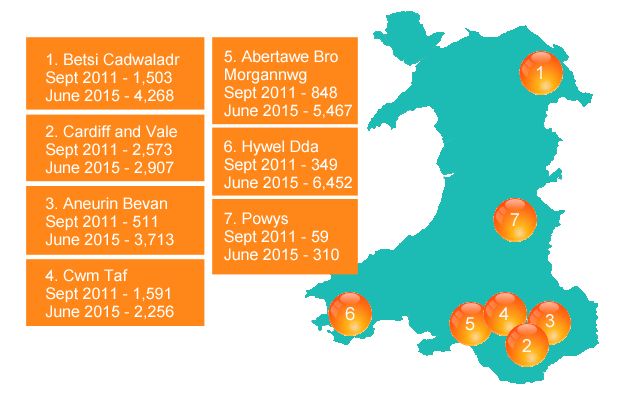 Bed blocking is also up, with patients spending 178,441 nights stuck in hospital when they did not need to be there, compared with 173,122 in June 2016. NHS England said it was a sign of a crumbling elderly care system, with the number of delays formally attributable to social care up 20 per cent on last year.
Phillippa Hentsch of the hospitals' group NHS Providers said: "Even at the height of summer, the NHS is working at full stretch. The lesson here is that there is simply not enough capacity in the system to assure patient safety in the coming winter."
A target to treat 95 per cent of A&E patients within four hours is still being missed, with 90.3 per cent seen in this time, as is a target to start treatment for 85 per cent of cancer patients within two months of a GP referral.
Chaand Nagpaul, head of the British Medical Association, said: "The government is now routinely missing its own targets across the health system. The NHS is clearly at breaking point, yet the government doesn't appear to have an answer to this crisis."
Jonathan Ashworth, the shadow health secretary, said: "A year of Theresa May's mismanagement of the NHS has pushed services to the brink and left thousands more waiting in pain for routine operations. Standards for NHS patients are getting worse and worse as a direct result of Tory underfunding. The government urgently need to sort this out."
NHS England pointed out that it was carrying out almost 50,000 more operations a month than last year as demand from an elderly population continues to rise. A spokesman said: "Last month 1.4 million patients started consultant-led treatment, and more than nine out of ten patients were waiting less than 18 weeks. We're working hard to cut long waits."