Pulse is correct when reporting 2nd September Austerity? You ain't seen nothing yet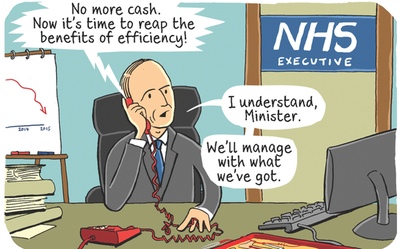 The waste of resources is revealed by the Telegraph 9th October: Taxpayer foots £1.5billion bill for legal cases against NHS in a year, figures reveal 
and Age based rationing is the conclusion of a trial based in USA and with large power based on 200,000 patients. Laura Donelly reports in the Telegraph 9th October: Women diagnosed with breast cancer after 70 twice as likely to die from it 
On 30th October the "Commissioning Review" for GPs and Health Trust managers reported: 'Extensive' care rationing is way forward for CCGs, says NHS Providers chief
The head of NHS Providers has said rationing access to care in an "extensive way" is one of six ways forward for the NHS as it is tasked to "deliver the impossible".
In a letter sent earlier this month to Sarah Wollaston MP, chair of the health select committee, Chris Hopson calls for an inquiry into NHS issues surrounding missed performance targets, the "crisis in social care" and workforce shortages.
To solve the issues, Hopson said there are "a range of options" now open to political and NHS system leaders.
He said: "Providing additional funding is the most obvious. If, however, there is to be no more funding, the NHS must now make some quick, clear, choices on what gives, however unpalatable these choices may be."
Hopson suggests six ways forward including "formally rationing access to care in a more extensive way".
Earlier this month, two clinical commissioning groups came under fire for rationing services.
St Helens CCG rescinded plans to axe non-urgent referrals to local hospitals, while Vale of York CCG said they would review plans to ban surgery on obese patients and smokers following criticism.
Hopson says in the letter: "Somewhat understandably, these local decisions have met with opposition, not least because some are inconsistent with the overall NHS policy framework – a framework which prevents the NHS from making the changes that other public services, such as local government, have made when facing similar financial challenges."
Hopson also suggested reducing the number of strategic priorities in the NHS, including seven-day services and mental health and cancer taskforce recommendations, which he says is leaving providers "inundated".
The other option included relaxing performance targets, closing or reconfiguring services, extending co-payments or charges or reducing the size of the NHS workforce which, he said, "accounts for around 70% of the average trust budget".
While Hopson expressed his support for the sustainability and transformation plans, "the problems the NHS faces are immediate".