If a group does not strike for 40 years that would seem to indicate they don't like the idea. They are mostly female and in severe debt. They delay earning until earliest 24, and often having children as well… Mr Hunt has lost his marbles and the goodwill of the profession. The BMA is not responsible for manpower planning which is a government function, delegated to 4 regions! No wonder the Kings Fund has been warning they will get it wrong – for some years. Surprising that an organisation that believes in market forces has not commented on the poor control by our rulers of the market in doctors.. Letters follow below, and NHSreality awaits the BMA response.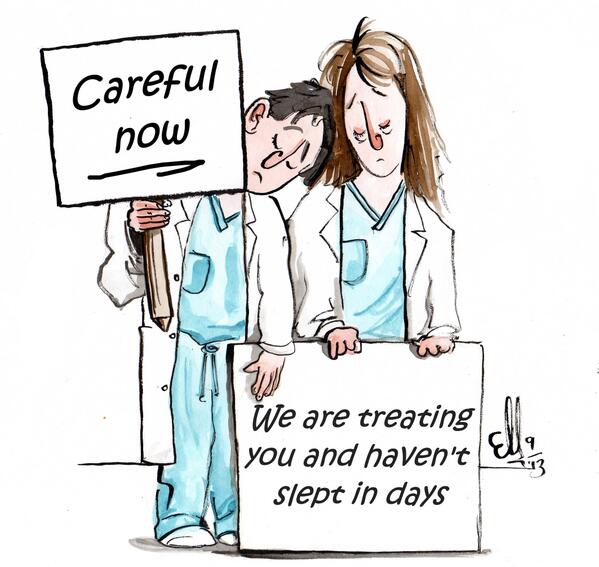 Sam Bowman of the Adam Smith Institute has written to The Times 9th April 2016:  STRIKING DOCTORS
Sir, Junior doctors defying the BMA's strike are to be commended (News, Apr 7). This strike is primarily about extra pay for working unsociable hours. Junior doctors already earn more than the average UK wage and later in their careers will earn many times more. More money for doctors means less for other NHS services, including treatments for patients.
The underlying issue is that the UK has too few doctors because the government colludes with the BMA to restrict supply. The UK has only 28 doctors per 100,000 people, compared with 38 in Germany and 49 in Spain. The BMA opposes the opening of new medical schools or the expansion of places despite there being a large number of would-be doctors who could meet this pent-up demand. In 2014 there were 125 applicants for every ten pre-clinical medicine places through UCAS. We also make it needlessly difficult for foreign doctors to work here.
Just as other cartels restrict supply to inflate prices, the BMA has kept doctors' wages artificially high by keeping doctors' numbers down.
Sam Bowman Executive director, Adam Smith Institute
He has also opined March 11th: The Strike is all about money – so why do doctors think they are above criticism?
The public will only miss what they had – when its gone. GP indemnity fees spiral out of control with 25% rise last year..
Just cry at the bribery, and the Death of the Goose that used to lay the golden eggs that used to make the Health Service(s) so efficient, and the envy of the world.
Replies on 11th April include: Doctors' qualities
Sir, It is not Roger Alford (letter, Apr 5) but Dr Ruth Wood (letter, Apr 8) who is missing the point on the gender of doctors. I was able to enter medical school with a C and two Ds at A level. Many of my fellow students had similar grades and have provided sterling service to the NHS over the past 40 years. You do not have to mega-intelligent to be a good doctor, but you do need to show diligence, empathy, a work ethic and the ability to work as part of a team.
Dr TJ Cullen, Frinton-on-Sea, Essex
Sir, Sam Bowman of the Adam Smith Institute (letter, Apr 9) claims that the BMA controls medical-school training places. This is nonsense. They are controlled by the government via arm's-length bodies, notably Health Education England, doing workforce planning.
He also seems upset that recently qualified doctors earn "above the average national salary". Doctors have to train for six years before they are fully registered, then face another six to ten years of postgraduate training and serial exams. Few 20-somethings have jobs comparable with being an on-call registrar.
I can't believe that someone from a famous free-market think tank is advocating flat-pay differentials.
Professor David Oliver, Consultant physician, Sulhamstead, Berkshire
Sir, I find it amazing that a self-described supporter of free-market principles (letter, Apr 9) should call for a cut to the pay of doctors in training, which is already lower than in Australia, New Zealand and the Republic of Ireland, and describe the BMA as operating a cartel. The NHS, not the BMA, sets doctors' pay scales, and due to pay freezes doctors in training have experienced real-term pay cuts of 15 per cent over the past six years with increasing workloads.
Paul Schofield, London SW2