The Investigating clinical incidents in the NHS – United Kingdom situation is now an "on line" report process, which is centralised.
Sanya Burgess for The Sunday Times reported 27th March 2016: NHS errors in Wales double under Labour .
Now this could well be good news, as it may indicate that staff are less inhibited than they were before about reporting incidents. It could be bad news, but NHSreality very much doubts the numbers have altered that much. There may be a worsening in the figures, as NHSreality predicts a managed decline degenerating slowly into post-code anarchy….. Do you believe in luck – or NHSreality?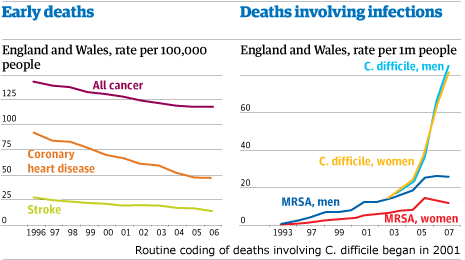 THE annual rate of serious health service blunders resulting in death or injury has more than doubled under Labour, according to official figures.
More than 900 "serious untoward incidents" (SUIs) were recorded in 2014-15 compared with 414 in 2011-12.
The number of SUIs at the Betsi Cadwaladr University Health Board in north Wales rose from 100 to 303 over the same period, and the Hywel Dda University Health Board in west Wales saw an increase from 25 to 82.
This weekend, Darren Millar, the Tories' shadow health minister who obtained the figures, demanded an independent inquiry and accused members of the Welsh government of "burying their heads in the sand".
He said: "Incidents such as these where patients could come to serious harm or death are avoidable and should never happen. The fact that they are rising and have increased threefold in some health boards in recent years is very concerning and provides further evidence of the impact of Labour's record-breaking cuts on the NHS budget in Wales.
"One avoidable death is one too many, and the alarming rate at which these incidents are being reported to the health minister suggests there are problems which need to be urgently addressed."
However, Mark Drakeford, the health and social services minister, accused the Conservatives of "yet another sloppy attempt to attack the Welsh NHS". He said the increase was the result of staff being encouraged to speak up when things went wrong.
"The number of incidents has increased because we have asked the Welsh NHS to report more things . . . NHS staff are encouraged to report all incidents, including near misses," he said.
David Williamson reports for Walesonline 15th Jan 2015: Labour attacked on performance of Welsh NHS as new report compares our service with England's so this is a sustained attack. It will only be solved once WHO reports on the comparative results (Maternal Mortality, perinatal mortality, life expectancy) between the different UK health systems.
Collapse, fear and disorder. A post-coded anarchy of lowering medical quality and standards is coming…
Endemic cultural failure – managed decline only is possible without the staff…